I read this one for the Reading Assignment Challenge. It also works for Flights of Fantasy, COYER, Prequel and Sequel challenge, Royal Challenge, Retelling Challenge, for Reading Bingo as Book with Red on the Cover, and Full House as Book You Bought. This is the second book in the Lunar Chronicles series and may have spoilers for Cinder.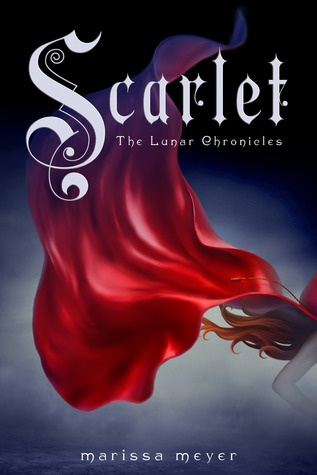 Feiwel and Friends
Cinder knows she needs to escape Queen Levana and wants to escape her destiny as the lost princess of Luna. When she stumbles into "Captain" Carswell Thorne's cell and he brags about his ship, she takes him with her in an effort to escape execution. Without telling him the truth, Cinder convinces him that they should try to find the lost princess and that Michelle Benoit may be able to help. Meanwhile, Scarlet, Michelle's granddaughter, is trying to find her grandmother who she fears has been kidnapped. Her only lead is her father's ravings about a man with a tattoo who helped to torture him and who has her grandma. When Wolf appears and Scarlet notices he has a similar tattoo, she makes him promise to help her, but doesn't completely trust him. In the Eastern Commonwealth, Emperor Kai is faced with the consequences of Cinder's escape and Queen Levana's anger. If Cinder is not found, Earth will suffer. In the race to find answers Cinder and Thorne and Scarlet and Wolf will cross paths and will be forced to make difficult choices and will have to decide if they will face Levana, while Kai may have to make the most difficult choice of all.
This was an exciting book and I loved the new characters! I both listened to this on audio and read parts of it and it is definitely a quick read. Cinder took me awhile to get into, but Scarlet really captured my attention and brought to light the true horrors of Levana and the Lunars. I had dreaded reading Scarlet, because Cinder was such a slow read for me, but I am so glad I did! I think with Cinder, the back story took awhile and with Scarlet, you could just plow through the story with just a bit of back story. Scarlet and Wolf are an interesting pair and Thorne provides some needed comic relief. I was also glad to see Iko again. I loved the twists on the "wolf" in this one, particularly the scene with Scarlet's "grandmere," which was a really clever twist on the tale. I also liked that Scarlet seemed to be a bit stronger than Little Red Riding Hood and was a good strong female lead. This is definitely a 5 cups of cocoa read for me and I really need to pick up Cress soon!