This book will be my June 2016 Reading Assignment Read. Unfortunately I did not finish a book in May, so I will have to try to make that up in July. It also works for Once Upon a Time Challenge since I read it before June 21st, just have not had time to review it.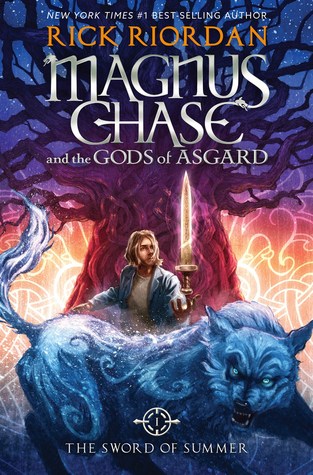 Disney Hyperion
Magnus Chase becomes more powerful after he dies. Magnus is the child of a Norse god, something he learns shortly before dying, when his uncle has him retrieve a sword that once belonged to his father. Magnus also happens to be the cousin of Annabeth Chase and they only share a brief conversation before most of the excitement begins. Because Magnus fights a fire giant and dies, a Valkyrie named Sam, takes him to Valhalla. There he learns that Ragnorak will begin soon, unless he can stop the Fenris Wolf from being released. Joined by a dwarf and an elf and Sam, who has been exiled from being a Valkyrie, the four race against time to stop the end of the world.
I liked hearing more about Norse mythology, which is one area of mythology that I haven't studied at all. This series is a little more YA than Riordan's other series, but still fine for middle school age. I didn't really like Magnus all that much as a character, which surprised me, but he is whiny at time, an "atheist," (really more of an agnostic, no matter how much he brags on being an atheist), and not all that impressive in this book. I think he will slowly mature. I did however really like Sam. Sam is a Muslim girl trying to deal with all the expectations in her life along with all the requirements of being a Valkyrie and she is not whiny at all. She is the stronger of the two, but has been dealing with her dual life for awhile, so I am hoping her mature will rub off on Magnus. I did also love that the relationship between the two is not going to be romantic. Sam has an arranged marriage with a fiance she loves and the relationship between her and Magnus is more like brother and sister, reminiscent of Carter and Sadie. I am really happy about this, because it allows for more action in the book, rather than mooning over another character. Really the main problem I had was with religion in this book, which surprised me, because Riordan deals with this so well in his other series. He says Magnus is an atheist and tries to make this cool, but Magnus even admits to not knowing for sure, which makes him agnostic. Sam's religion is kind of glossed over and I would love to have seen a bit more of her Muslim heritage, because it does play a role in her life, but from the bit we see, it seems to be portrayed accurately. I am sure it is hard for him to include religion without really talking about his own beliefs and trying to accurately portray those of others, so other than Magnus' one rant, it was not badly done. This book is definitely more action packed than Riordan's others and a bit more mature. It is not quite as good as the Olympians and Lost Heroes, but few books are. 3.5 cups of cocoa and I can't wait until October!