I read this for the Reading Assignment Challenge and it is also a Once Upon a Time read for mythology. It also fits the Prequels and Sequels challenge, the Series Enders challenge, Flights of Fantasy challenge, Full House Challenge for Laugh Out Loud Moments, and Reading Bingo as Read a Middle Grade book. It also works for the purple path on Story Sprites for Tight Male/Male friendship and there are actually several of these in the book, but I think Jason and Leo would be the best example. This will have spoilers for the rest of the series.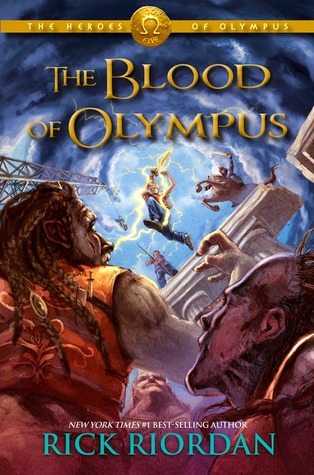 Disney-Hyperion
The 7 demigods are slowly making their way to Athens to face the giants and Gaea where the prophecy that one of them will not make it ways over their heads. While they fly and sail on the Argo 2, Reyna, Coach Hedge, and Nico are shadow traveling the Athena Parthenos back to Half-Blood Hill in the hopes of avoiding a war between the Greek and Roman demigods and to heal the gods. All of the demigods must face their biggest faults and fears if they can even hope to defeat the earth mother and her children. With August 1 looming over their heads, can the crew sacrifice one of their own to save the world and will the world fall to fire or storm?
Perfect ending! I love Riordan's books and even though the final books in his series usually make me cry, they always end with hope. I also loved the humor in this series and the clean and not overly romantic moments. The action is perfect and I loved hearing from 9 different characters. I don't know how Riordan managed to keep them all in character, but it was well done. I really can't decide which character is my favorite, but I am hoping that some of them will return for The Trials of Apollo. I think Annabeth is probably still my favorite, but Leo was also fun. I feel like we saw Percy's flaws more with this series, which I liked and I feel like he became more of a traditional hero with flaws that could have caused a really bad ending. I think the pairings of characters works well and that we will see some of these couples again soon. I recommend this series to tweens all the way to adults and I love how Riordan tackles issues in his series and does so seamlessly with his plot. This is obviously a 5 cups of cocoa read for me and will definitely take the top spot for favorite middle grades read this year and possibly will take the top spot for my favorite read of the year. Keep the books coming Rick!