This was my TBR read for January and also a COYER read. It is also my first read for the Retelling Challenge. It also works for Reading Bingo as a book with a one word title and for Full House as Published 2015. I received this as an e-galley on Edelweiss in exchange for an honest review.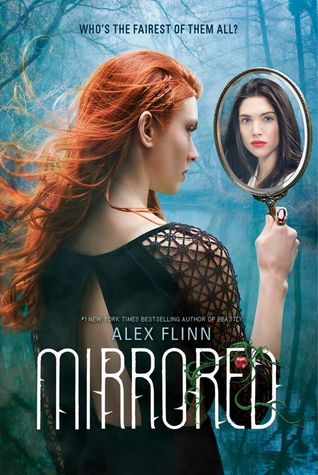 Harper Teen
This is a twist on the story of Snow White and does feature an appearance from Kendra! Violet has always wished she was beautiful and has always been jealous of Jennifer and her group of hot, mean girls. When Jennifer takes away Greg, Violet's only friend and crush, Violet feels like she is left with nothing. However, unbeknownst to Violet, she is a witch. When she is attacked by two boys, Violet calls birds to save her and she meets Kendra. Kendra teaches her to use her powers and tries to be Violet's friend. Violet, however, wants revenge and to be beautiful. She uses her powers to become the fairest of them all, but she can't steal Greg from Jennifer. After Jennifer is cruel to Violet, Violet makes a dog attack her and scar her, but still Greg loves her. Fast forward, Greg and Jennifer are married with a beautiful girl, Celine. Jennifer fears animals and with good reason. Jennifer is attacked all the time and one of these attacks in a zoo proves fatal. Violet then swoops in on Greg and Celine is left with a beautiful, wicked stepmother. Celine does everything to downplay her beauty and to stay out of Violet's way. Having only one friend, Laurel, Celine does what she can to stay away from home and both girls bond over their crush on rock star, Jonah Prince. Celine even gets the leading role in a play to spend more time away from home and meets Goose, who is only 4'5", but doesn't let his size dictate his life. Celine likes Goose, but can't tell his intentions. While struggling with all this, tragedy strikes, and Violet wants Celine dead. Celine must depend on Goose and Kendra to help her survive and when all else fails, she must depend on true love.
I love Flinn's twists on fairy tales. Beastly is still my favorite, but this one had some interesting ideas. We get to see inside the "evil queen's" head, when we hear Violet's story. I really did not feel sympathy for her or Jennifer or Greg, but it was nice to see the motive. Then we get to see into "Snow White's" head. Celine does provoke sympathy and has the sweet, innocent quality that Snow White from Disney had. I also liked seeing into Goose's head. Using someone who has dwarfism was definitely a twist, but I worried that it would be too much. Flinn does and doesn't make it an issue for Goose. She does by showing he suffered bullying, just like Violet and Celine, but that he conquers this by using humor. She shows how the humor hurts him at the same time. I also like that she shows he can be the "hero," jumping over balconies, conquering fears, and that he can be a love interest. I was worried about it, but I think she did a great job. Overall, Kendra is still my favorite character and I felt so bad for her throughout this book. She tries so hard to do right, but there is always something she is unable to prevent, showing that magic, while powerful, is limited. If you want an enchanting tale with multiple points of view and a love that will have you cheering, then read this book! 4 cups of cocoa.