Day 1: I really did not think I would have a chance to read much, but I did. My niece's birthday party was most of the evening, but I was able to read before and after the party. I can't believe she is already three! She had a horse-themed party and I am sure within the next couple of years she will have her own horse.
Books read: Professor Gargoyle
Currently reading: Prodigy by Marie Lu and Snow by Tracy Lynn
Pages read: Professor Gargoyle-168 pages and finished!, Prodigy-29 pages, Snow-5 pages
Books finished-1
I can't believe I already finished one book, but it was a middle grades book. I think the 5th graders will really like the series and I hope to check out the second book really soon. I also already jumped stack and picked up another library book I have checked out, Snow. I love the Once Upon a Time series and am trying to finish that series this year. This is a retelling of Snow White and the Seven Dwarfs. Hope everyone had a good day reading!

Simon Pulse
Day 2: I got in a cleaning mood, so I quickly took advantage of that. I did not read quite as much today and I chose to start yet another book. I wanted to take a little break from the fantasy, so I picked up The Espressologist by Kristina Springer. I haven't really gotten into yet, but I will read on.
Currently Reading: Prodigy, The Espressologist, Snow
Pages Read: Prodigy-25 pages, The Espressologist-25 pages, Snow-5 pages
Books finished: 1-Professor Gargoyle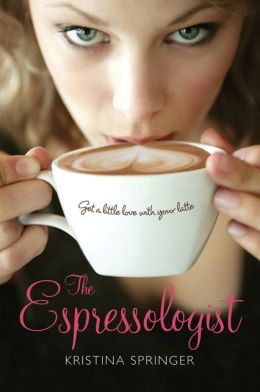 Farrar, Straus, Giroux