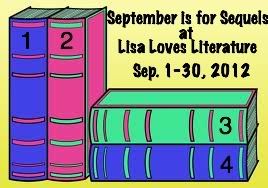 I saw this on Jessi at
Auntie Spinelli Reads
blog and thought it looked like fun. It is hosted by Lisa at
Lisa Loves Literature
. The goal is to read at least 4 sequel book from the beginning of September to the end of September. For a complete list of rules see Lisa's blog
here
. I think I know the four I am going to try to tackle.
1.
Enshadowed by Kelly Creagh
(#2 in the Nevermore series)
2. Unwanteds: Island of Silence by Lisa McMann (#2 in the Unwanteds series)
3.
Caught by Margaret Peterson Haddix
(#5 in the Missing series)
4.
City of Lost Souls by Cassandra Clare
(#5 in the Mortal Instruments series)
There are so many more I would love to add, but I am not reading very quickly right now. So far nothing I have tried to read this month has been able to keep my attention for more than a couple of pages. Hopefully revisiting some of these series will help!